Amid the looming uncertainty in the macro financial ecosystem, major exchanges like Binance succeeded in stealing the show in terms of volumes and consumer interest.
august saw volatility return to the cryptocurrency markets as the top crypto assets by market capitalization – Bitcoinand Ethereum failed to break above key resistance levels. BTC and ETH price closed at $20,050 and $1,554, down 14.0% and 7.47% respectively over the past month.
Notably, the effects of dampened market momentum and volatility were visible in spot trading volumes on centralized exchanges which jumped 36.8% to $1.91 trillion in August.
A more volatile and unpredictable environment made investors and traders more cautious, which was reflected in their investment habits and psychology throughout the past month. A CryptoCompare report pointed out that Binanceone of the world's leading cryptocurrency exchanges, captured 55.1% of spot volume market share in August as top exchanges maintained their dominance in the market.
Binance Dominates Market Share
Data shows that over the past month, total spot trading volume increased 36.8% to $1.91 trillion as investors continued to profit from volatility. Upper-tier spot trading volumes increased 41.6% to $1.8 trillion, while lower-tier spot trading volumes decreased 12.3% to $108 billion.
In fact, market share was largely captured by major exchanges which accounted for 94.3% of total spot volume. This is the highest market share captured by leading exchanges since November 2017.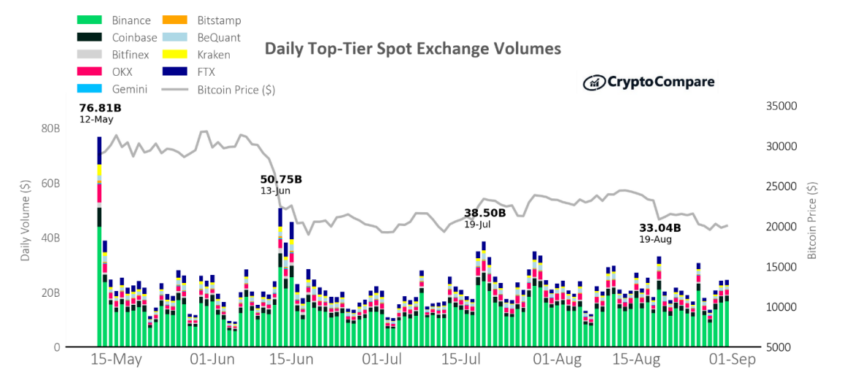 Binance remained the largest top-tier cash exchange by volume at $438 billion, followed by Coinbase at $58.3 billion and AAX at $54.9 billion. Binance's continued dominance showcased the higher activity of retail crowds amid prolonged periods of volatility.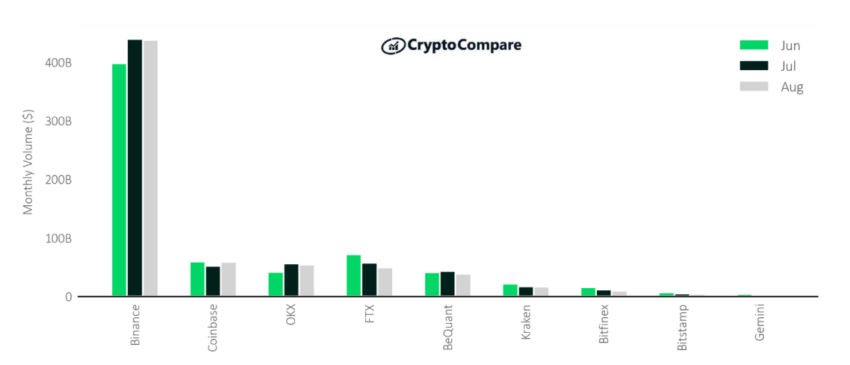 Does uncertainty still weigh on the BTC market?
In August, as BTC and ETH failed to clear their respective key resistance levels at $24,500 and $2,000, investors continued to lean on major exchanges amid uncertain macro backdrops. This volatility was reflected in trading volume, as spot trading in centralized markets
trading jumped 36.8% to $1.91 trillion.
Bitcoin spot trade in USDT rose 15.4% in August to 10.1 million BTC as investors continued to prefer safety amid the current uncertain macro conditions. BTC spot trading in BinanceUSD (BUSD) and USD rose 0.44% and 0.33% to 2.14 million BTC and 1.31 million BTC respectively.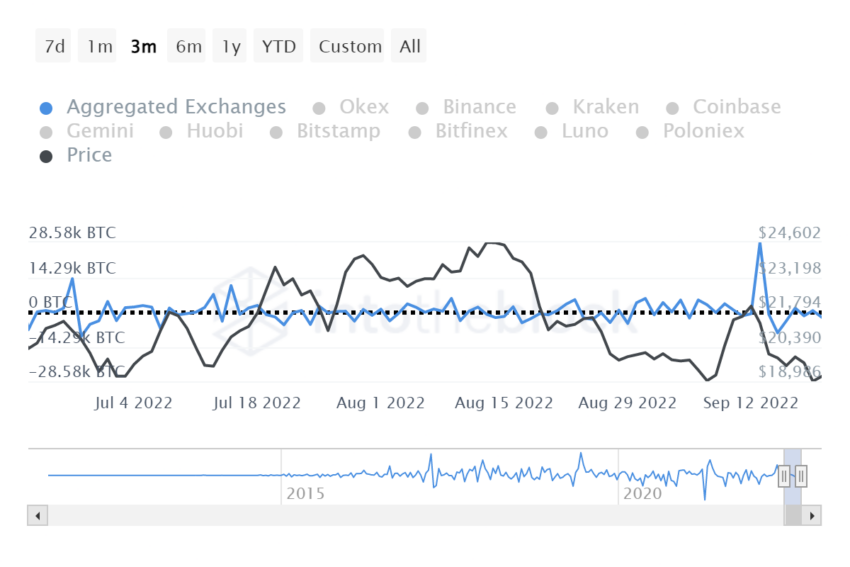 Looking at BTC net flows on aggregated exchanges, one could further say that uncertainty still plagued BTC investors, as net flows remained largely positive throughout August. Net flows are positive when more funds flow in than out of stock exchanges and vice versa.
Volume of derivatives at annual low
While spot trading volumes increased 36.8% to $1.91 trillion, derivatives trading volumes across all centralized crypto exchanges increased 1.91% to $3.16 trillion. dollars, recording its first increase in three months.
An increase in spot trading volume led to a 9.59% decline in derivatives market share to 62.4%, a yearly low for the indicator. Historically, the derivatives market has dominated crypto trading volumes.
Declining derivatives market share reflects uncertain macroeconomic conditions with rising inflation rates and an imminent threat of recession. The price action after the Fed reiterated its inflation-control stance suggests there has been a strong sell-off in investors' cash holdings.
Disclaimer
All information contained on our website is published in good faith and for general information purposes only. Any action the reader takes on the information found on our website is strictly at their own risk.