Ahead of gold, US Treasury, S&P 500 and others, banking giant Goldman Sachs ranks Bitcoin (BTC) in the top 1 best performing assets year-to-date, by a Twitter user.
According to Goldman Sachs, Bitcoin outperformed its cryptocurrency pairs and major financial institutions in the traditional market with a risk-adjusted return (Sharpe ratio) of 3.1. The Sharpe ratio is used to measure performance adjusted for market volatility; the higher the ratio, the better the investment, currency or stock in terms of risk-adjusted returns.
Bitcoin takes the lead in the general market recovery
On shorter timeframes, Bitcoin continues its quest to regain lost territory. Slowly but surely, Bitcoin is trying to break above the $23,800 resistance level. Bitcoin appears to have a healthy pullback below the resistance line looking for bullish momentum.
Despite the recent crisis not only in the cryptocurrency market with the collapse of FTX and the global economy in free fall, leading to consequences for investors and institutions, the market has also noted the return of market makers to cryptocurrency exchanges.
Contrary to the Goldman Sachs report, according to an annual report report by CoinGecko, Bitcoin is the worst performing asset among major currencies, with a significant decline of 64%. CoinGecko also noted that since January 2022, spot market trading volume has decreased by 67%.
The new year for Bitcoin and the market has started positively, with $200 billion in volume and volatility, according to data from CoinMarketCap.
Bitcoin's strong year-to-date rally has changed market sentiment. Analysts seem bullish in the near term, expecting the cryptocurrency to rise to as high as $30,000. However, looking ahead, economist Lyn Alden said Bitcoin could be in "considerable danger" in the second quarter of 2023 as liquidity risks increase.
As Bitcoin price consolidates below the resistance zone, the cryptocurrency looks for a breakout of the trendline to position itself above the $24,500 level, representing its next hurdle.
The rising 20-day moving average at $20,700 and the Relative Strength Index (RSI) in the overbought zone near 80 suggest that BTC's bullish trendline may continue and conquer new regions.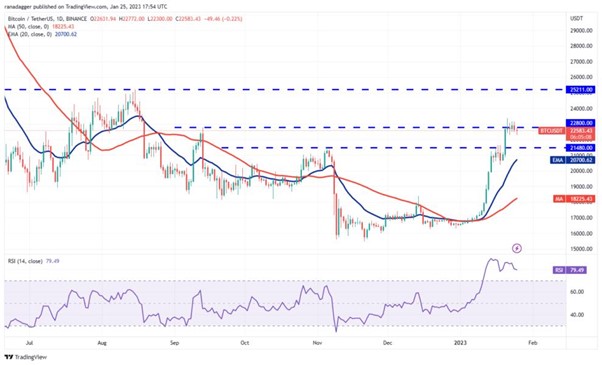 Conversely, the bears are ready to block the upward Bitcoin price action and reverse the momentum and direction of the market, but the bulls seem unwilling to surrender. Speculation is on the rise with no certainty in the market and upcoming Federal Open Market Committee (FOMC) meetings.
As of this writing, Bitcoin has gained nearly 8% in the past seven days. It traded at $22,889 with a sideways move in the past 24 hours. The current capitalization of the currency stands at $440 billion, outperforming all its market pairs.