Data shows that Litecoin has recently seen an acceleration in adoptions, as its total addresses have now surpassed those of Ethereum.
Litecoin has continued to see rapid adoption recently
According to a Tweeter from the director of the Litecoin Foundation, LTC's growth continued to accelerate even after overtaking Ethereum in total addresses. The "total addresses"Here is an indicator from on-chain analytics firm Glassnode that measures the total number of unique addresses of a cryptocurrency that have been involved in at least one transaction (whether as sender or receiver) on chain for the life of the network.
When the value of this metric increases, it means that users are currently creating new addresses on the blockchain, which could be a sign of new investors embracing crypto.
Now, here's a chart that shows how the total address metric trends for Litecoin and Ethereum have compared over the past few months: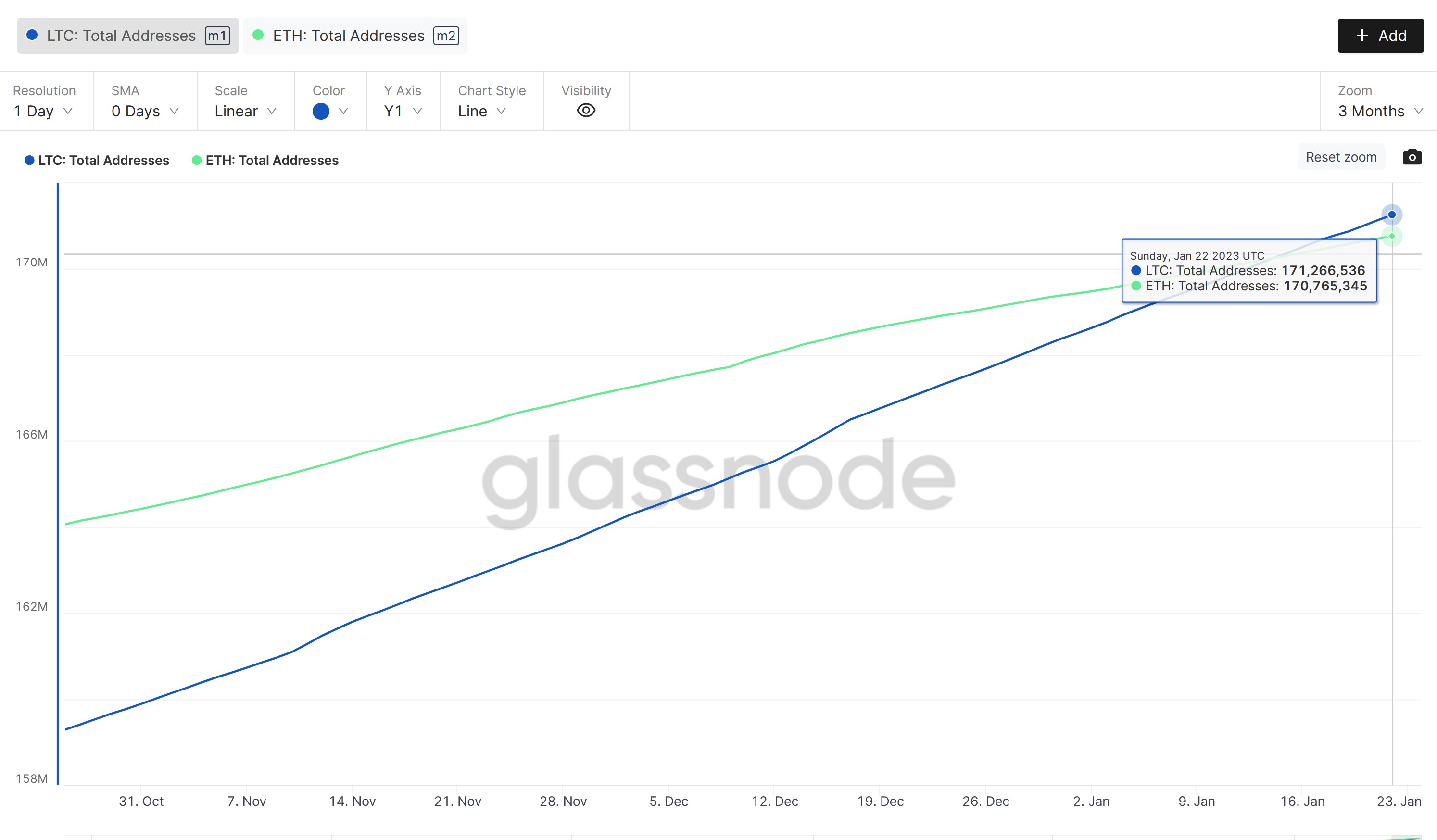 The two metrics seem to have crossed each other in recent days | Source: Jay Milla on Twitter
As the graph above shows, the total number of Ethereum addresses was higher than that of Litecoin until very recently. Over the past few months, LTC has seen strong growth in the number of new addresses on the network, and while ETH has also seen an increase, its growth has been considerably more subdued.
Due to this difference between the new addresses opened on these blockchains, Litecoin managed to overtake Ethereum this month. However, even after pushing above ETH, LTC growth does not appear to have shown any signs of slowing down.
On the contrary, the indicator showed an acceleration of the rise. This implies that LTC has only recently become more popular in terms of adoption. Data from BitPaythe largest cryptocurrency payments processor in the world, only reinforces this idea.
Think Bitcoin is the only cryptocurrency users spend? Think again. Litecoin payments are on the rise 📈. Read more: https://t.co/3j03QrH0lj pic.twitter.com/o3lVpWEPUT

—BitPay (@BitPay) January 19, 2023
From the pie chart, it is visible that LTC accounts for 27.64% of transactions processed by BitPay, which is higher than the percentages for Ethereum (11.66%) and Dogecoin (9.23%). The only coin that was used more than Litecoin was Bitcoin, which accounted for 41.62% of BitPay transfers.
Litecoin seeing such high adoption as a payment method compared to other networks is likely due to the fact that the cryptocurrency offers fast transactions at very negligible fees.
The price of the asset has also increased overall over the past two months, which may also attract new users to the network. More active adoption like this can be constructive for price in the long run, as a new user base can provide a sustainable basis for price movements in the future.
This year is also when Litecoin reduce by half, an event where its production rate will be cut in half, is to take place. The halvings have historically been bullish for cryptocurrencies because they make them rarer, so LTC seeing more adoption ahead of this event may be an optimistic sign for investors.
SLD Price
As of this writing, Litecoin is trading around $90.2, up 3% in the past week.
LTC moves sideways | Source: LTCUSD on TradingView
Featured image by Michael Förtsch on Unsplash.com, charts by TradingView.com, Glassnode.com