Bitcoin price continues to break through resistance levels while reclaiming previously lost territory. Unlike other rallies in the current zone, this price action could suggest a lingering trend and a new dawn for the industry after months of corporate collapses and bankruptcies.
As of this writing, Bitcoin (BTC) is trading at $22,800 with sideways movement in the past 24 hours. The previous week, the cryptocurrency recorded a profit of 10%. Other cryptocurrencies in the top 10 by market capitalization are seeing similar price action with substantial profits over this period.
Is Bitcoin finally at its lowest?
According to a analyst at Jarvis Labs, Bitcoin's current rally is the result of a long period of consolidation below the 200-day moving average (MA). This moving average is one of the most important levels in BTC and serves as a critical support during bearish cycles.
As Bitcoin recovers the 200-day MA at around $19,520, the analyst is keen to see consolidation above this level. The rally could extend if the cryptocurrency can hold above, pushing BTC to new highs, solidifying "a 200-day MA reversal from resistance to support."
As the chart below shows, during the 2019 bear market, BTC had a long consolidation below its 200-day MA before recovering to those levels later in the year. According to the analyst, the longer the consolidation, the better the overall market structure of BTC improves as other moving averages increase.
The above does not imply that Bitcoin will have a continuous upward trend, returning to its all-time high of $69,000. Instead, it suggests that BTC's market health is improving, with the basis for further gains increasing.
This new status quo makes any potential decline an opportunity for optimistic investors. The Jarvis Labs analyst wrote:
(…) And while there is still a reasonably high probability that price levels from early January will be revisited again at some point in 2023, there is also strong data to suggest that such a retest would present a excellent buying opportunity.
Accumulation Levels Hint at 2019 as BTC Bottom
In addition to this period of consolidation below the 200-day MA, which hints at a 2019-like low, BTC has seen "persistent accumulation." The image below shows that Bitcoin investors have "moderately accumulated" (blue dots in the chart below) more cryptocurrency.
Similar to the bear market of 2018-2019, this period of accumulation preceded market rallies. In the coming months, Bitcoin should see more aggressive accumulation (red dots in the chart below) to support another bull season.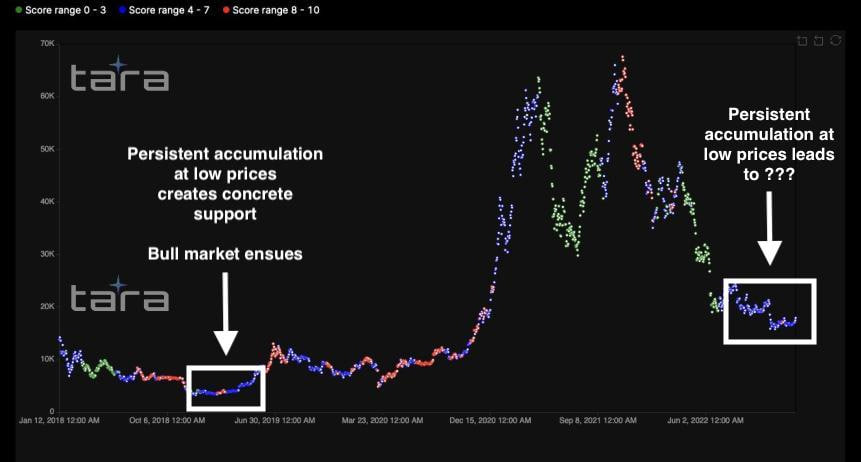 The US Federal Reserve (Fed) remains the biggest obstacle to a Bitcoin rally. The financial institution raises interest rates to reduce inflation while harming financial markets.
Market participants expect the Fed to pivot monetary policy, but gains in equities and crypto, combined with persistent inflation, could trigger the opposite. If that happens bullish investors may see the buying opportunity presented by the Jarvis Labs analyst.