XRP price cannot escape the general market sentiment at the moment and was trading at $0.3781 at press time. With that, XRP was unable to defend yesterday's gains of over 9% and continues to get trapped in a price channel between $0.32 and $0.40.
The channel was established when the price of XRP moved from above $0.50 to near a 1-month low at around $0.32 on 09 November following the collapse of FTX. In the 1-hour chart, XRP is currently trading above the 50 and 100 simple moving average (SMA), but below the 200 SMA.
To signal an uptrend, XRP price needs to climb above $0.40, and may then meet the first notable resistance at around $0.43, before facing major resistance at $0.50. To avoid another downward move, XRP should not fall below $0.3650.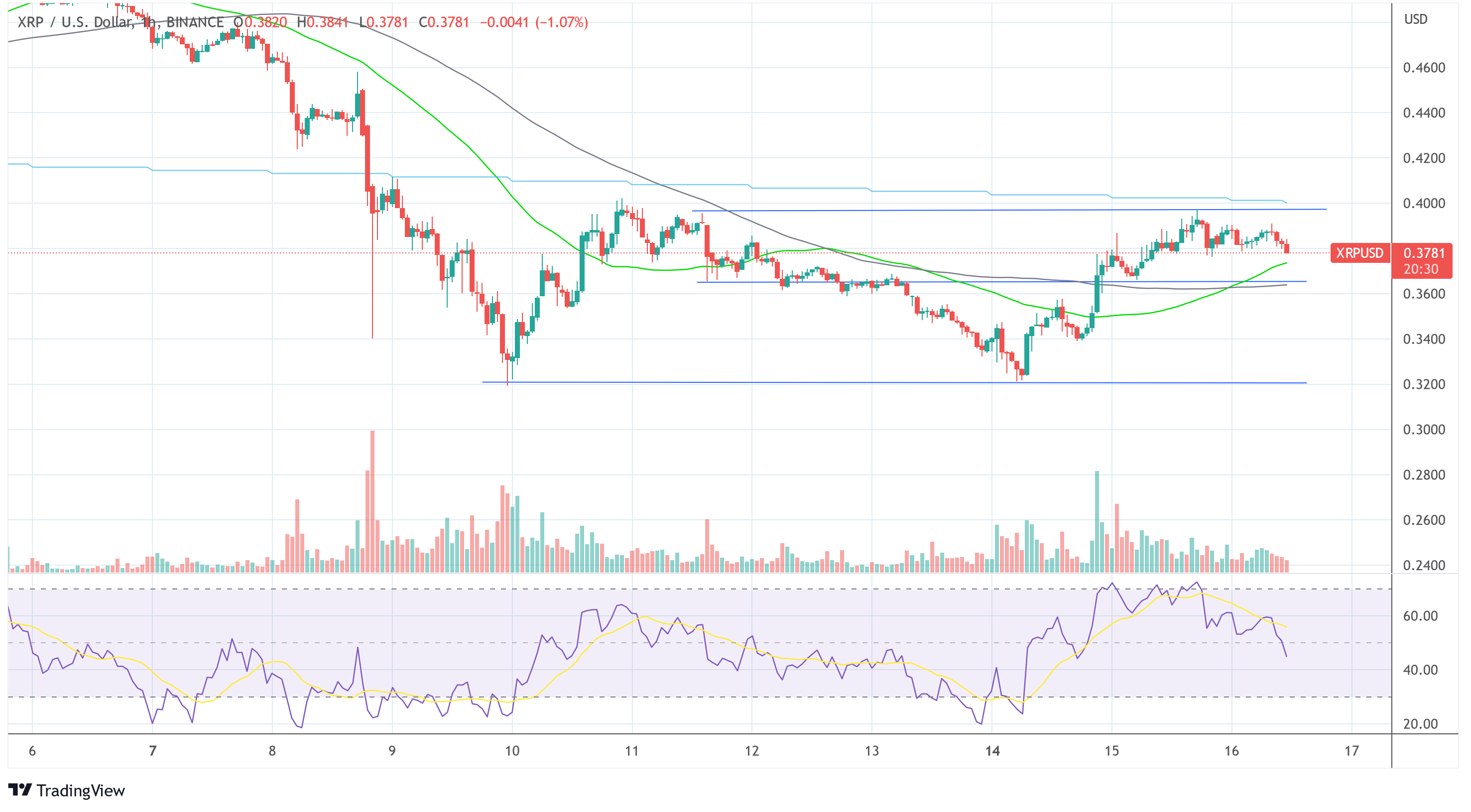 Good news coming for Ripple and the XRP price
In a recent tweet, Ripple announced an expanded strategic partnership with MFS Africa.
The fintech company has the largest mobile money presence in Africa with over 400 million connected users and over 800 payment corridors across the continent and growing. The Blockchain Company tweeted:
We are delighted to announce that our On-Demand Liquidity (ODL) solution is growing through our partnership with MFS Africa! Africa holds 70% of the world's mobile money value of $1,000,000, and ODL will further improve digital payment rails across the continent.
The new partnership is designed to optimize real-time mobile payments for their customers in 35 countries. Notably, the XRP-based on-demand liquidity solution (ODL) will play a role.
The aim is to circumvent the frictions and bottlenecks associated with sending money across borders via traditional payment systems. On the potential, Ripple writes:
While mobile money users in Africa have grown exponentially in recent years, the number of users worldwide is expected to reach 70% of the world's population.
Another XRP event that could have a massive impact on the price of XRP is "Swell Global". The annual event will take place in London this year, November 16-17.
Notable speakers will include Brad Garlinghouse (Ripple CEO), Eowyn Chen (Trust Wallet CEO), Jorn Lambert (Mastercard, Chief Digital Officer), Emma Joyce (GBBC Digital Finance, CEO), Alex Manson (SC Ventures) and Derrick Walton (Bank of America, Head of GTS Emerging Payments and Innovation).
Among others, James Wallis, head of RippleX, will discuss "Strategy and Best Practices for Central Bank Digital Currencies". Additionally, Wallis will announce the winners of the CBDC Innovate Global Hackathon.
On day two, Derrick Walton of Bank of America will participate in a panel discussion on the role of commercial banks in CBDC adoption. Mastercards Lambert will speak on the question: "Is Cryptocurrency The Next Internet?" ".
A major news could breathe new life into the price of XRP.
The day has finally arrived! @BGarlinghouse will start soon #RippleSwell Global in London surrounded by our esteemed speakers, our valued customers and exciting discussions on the latest #crypto.

Check back for updates you won't want to miss! pic.twitter.com/HFz5g3Xmf2

— Ripple (@Ripple) November 16, 2022